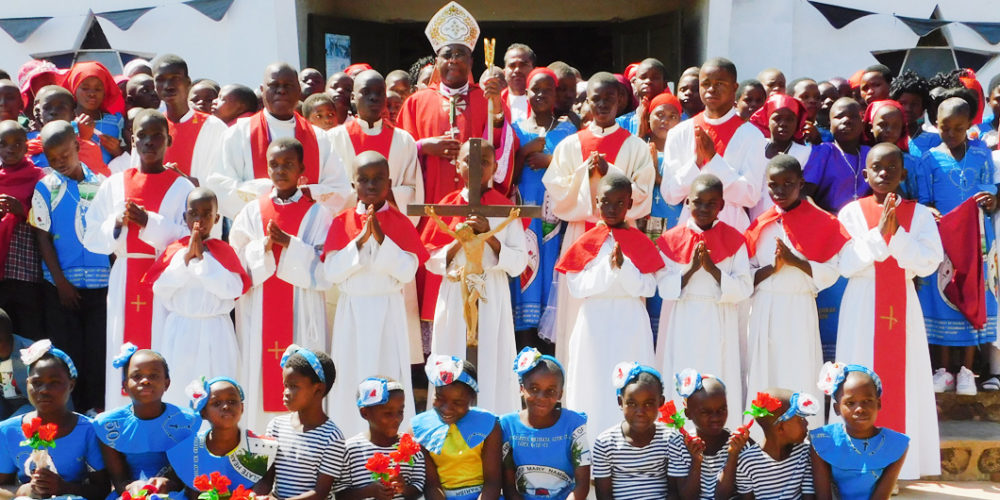 140 CATHOLICS CONFIRMED IN NAMANDANJE …and Bishop Stima preaches 'hope'

12.05.19
Written by Fr. Harry M. Phiri
12th May this year was fourth Sunday of Easter which is famously known as Good Shepherd Sunday. On the day, Bishop Montfort Stima reiterated his call to Namandanje parishioners to consider 'hope' as ultimate virtue by which all acts are to be driven by.

The Bishop made this call, in his homily at Mass to congregants of Confirmation Mass at the parish, before administering the Sacrament of Confirmation to 140 Catholics.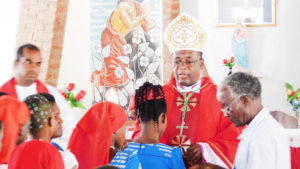 "As a Church and God's people, we are all called to live in hope at all times. Our lives unveil the depth of hope in the risen Lord for it is thru what we do, alter, engage in, that the degree of hope in God, in the life to come and in the risen Lord is unfolded. We are the Easter people, and hope in the risen Lord propels our wellbeing and lasting anticipation for the world to come," said Bishop Stima.

He added that the salvation we gladly celebrate each day and utmost in the Easter season is a gift which imparts us responsible roles by letting our hope be evident.

Bishop Stima also urged the young adults to ask themselves how they will use their gifts and talents to serve and transform their communities in after confirmation.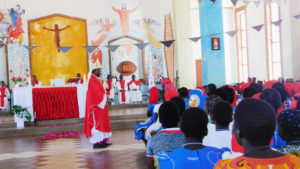 "The Holy Spirit received on baptism and on confirmation has given you and us all unique gifts for the service and salvation mankind. Therefore, we need to make proper use of these gifts. Selflessness and love for others are indicators that one lives in hope," he added.
In very clear terms, the bishop urged the just confirmed Catholics to take their positions and make proper use of their talents in the church and at the service of people at large.
The Bishop encouraged the youth and Sunday school children to concentrate on school so as to grow into trustworthy adults.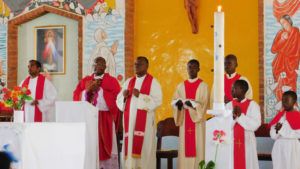 Before administering the sacrament of confirmation, the bishop took time to listen to and speak with the candidates about their current and future aspirations, their questions about life and the challenges they face while trying to live their Catholic faith within their communities.
He further encouraged those present to hold on to their indigenous culture of supporting their priests. Particularly, he mentioned that the parish is of age and needs to play a model role.
"Namandanje Parish has come a long way. You just celebrated your golden jubilee last year. As a sign of growth, two parishes are born of you, and these being St. Mary's (Ntanja) and Mofolo Woyera (Masanje) Parishes. May you be exemplary to these two parishes and of course some parishes elsewhere in all areas particularly on self-reliance," he added.
The parishpriest of Namandanje Parish, Father Ernest Yola thanked God for the year's harvest of 140 Catholics confirmed on the day. Out of the confirmed 197 are girls and the rest are boys.
Namandanje Parish was created in 1968 by Montfort Missionaries from Italy.