By Florence Wesley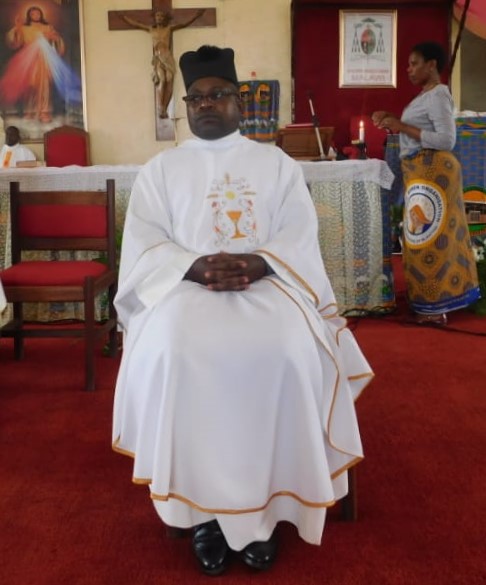 The Code of Canon law says that every particular church is divided into distinct parts known as parishes (Can. 374§1). The diocesan bishop decides to group the neighboring parishes into deaneries, in order to foster pastoral care through common action (Can. 374§2). The one who heads a deanery is called a dean or Vicar Forane (Can. 553§).
Following this, the bishop of the diocese of Mangochi, Rt. Rev. Montfort Stima on 12th November 2022 installed a dean, whose name is Fr. Constantine Chipondeponde. This installation ceremony took place at Mangochi Cathedral. Fr. Chipondeponde is the parish priest of Namwera Parish and heads Mangochi deanery. His deanery comprises St. Augustine (Mangochi) Cathedral parish, St. Peter (Lulanga) parish, St. Joseph (Namalaka) parish, Our Lady of Lourdes (Namwera) parish and St. Padre Pio (Katema) parish. The installation ceremony took place during the Eucharistic celebration whose main celebrant was Rt. Rev. Montfort Stima, the bishop of the diocese of Mangochi.
In his remarks, bishop Stima said that the dean is a head of a particular territory who represents diocesan bishop. He (the dean) assists him (the bishop) in the apostolic and pastoral coordination thereby relieving him in other duties.
Speaking to the Christians who came to witness the ceremony, Fr. Chipondeponde made an appeal to all Christians that they should be praying for him on his big position. He also asked the lay faithful of his deanery to be informing him all what he is supposed to know in his capacity as the dean. He added that it is necessary to show some togetherness so that Mangochi deanery should move forward.
Mangochi Diocese has got five deaneries and their names are Mangochi, Ulongwe, Mpiri, Balaka and Nankhwali. The four remaining deaneries are expected to have the similar ceremony of installation in the months of November, December and January. Fr Constantine Chipondeponde started his duty on 14th October 2022 and the appointment will be for three years.