By:Francis Polinyu Banda
(Correspondent)
The Communication and Research Commission in the Catholic Diocese of Mangochi – Malawi, organized a two days workshop for Catholic journalists and reporters with the intention of drilling the communicators with knowledge on basic skills necessary for reporting on electronic, print and broadcasting publications by use of church parameters and modern technology.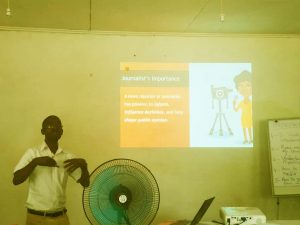 The objective of the workshop is to maximize the capacity in sourcing and sharing of information and increase the number of contributors in all media platforms and specifically catholic websites such as Diocese of Mangochi, Luntha Television AMECEA blog, ECM site, Radio Maria and many more.
Speaking on the official opening occasion of the training, Rev. Fr. Frank Chingale, vicar general of Diocese of Mangochi who represented the Rt. Reverend Montfort Stima, Bishop Chair Communications and Research Commission in the Episcopal Conference of Malawi (ECM) said that communication is an important arm of the Catholic Church for it does not just connect her people with the rest of the world but it is also a tool for evangelization.
''Communication is an essential tool that connects people. The Church needs better communication skills for evangelization,'' Chingale said.
Fr. Frank highly applauded journalists, the commission and SIGNIS-Italy for funding and organizing the training whose theme was Effective and Efficient Reporting; A Path To Modern Evangelization for the reason that journalists will be equipped to write more for publicity of the church activities and also in the special spiritual year as the Liturgical calendar marks it as THE YEAR OF THE WORD OF GOD which commenced in December 2019 and runs to  September 2020.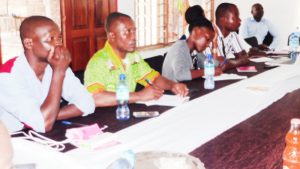 The diocese appreciates roles played by communicators such as publicity. However, let me ask you to consider being a Catholic journalists, a modern vocation. You were 'baptised and sent' to preach the gospel through the professional you assumed. Look up to the men behind the sacred scriptures as your models. Let St. Jerome, the figure behind the translation of the Bible for access to masses inspire your work.  It is my sincere hope that this training will assist you, journalists, to move away from the problem of asking irrelevant questions to sources that end up giving you inaccurate information hence being consumed by the public," he added.
Fr. Frank also took advantage of the function to remind the journalists the need to prepare thoroughly and timely the forthcoming National Annual General Meeting of Association of Catholic Journalists which is scheduled to take place around from 24th to 26th April 2020 in Mangochi.
2020 SIGNIS funded Training for Catholic correspondents, reporters and journalists follows one held in March 2019 which saw parochial correspondents being drilled on the use of technology to report issues for public consumption.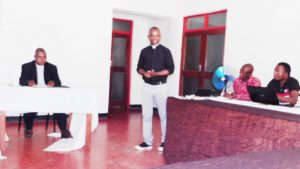 END