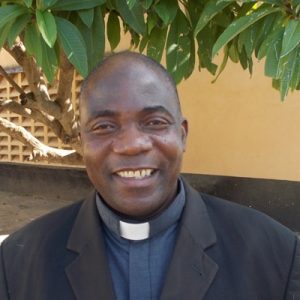 FR. EPHREM MKAMALIYSA TURNS 50 AS A CATHOLIC
Every journey starts with a single step. The initial move made in any journey marks the beginning of either good or bad experience in life. The Christian journey starts with baptism. All the baptised become God's children, members of the Holy family and liberated spiritual citizens.
25th December, 1967 will not only be remembered as any other Christmas day for the 61 year old Fr. Ephrem Mkamalisya for it is the day he became what has shaped his life and what he longed for as a youth. He became a Catholic faithful. He and seven others were baptised into the Catholic Church at Kausi by late Fr. Alessandro Assolari who by then was a parish priest of Fort Johnstone Parish. Hailing from a Yao background, the little Ephrem had strong Ismalic roots and it wasn't easy for him to avert to Catholicity. "I was denied food by relations, mocked by my own friends, called names at school and at times flogged for the choice I made to become a Christian, but here we are bearing witness to what God has done to us over the years," Fr. Ephrem joyfully narrated in his homily.
This baptism saw the birth of a new outstation within Fort Johnstone Parish called Kausi Catholic Church. 50 years down the line Kausi Church shares with Fr. Ephrem the joy for the numerous graces God has rendered to His Family at Kausi. The church that was born on Christmas day with only 8 members has grown into 8 out churches and with a total population of 1234 Christians in 50 years; and in 2003 was elevated to a full parish.
Christmas Day, 2017 was a momerable day for both Fr. Ephrem who hails from Kausi Parish and the parishioners who celebrated a thanksgiving High Mass for the countless graces God has tirelessly rendered to both the parish and Fr. Ephrem. On the day, Fr. Ephrem officiated the Sacrament of Baptism to three children, a thing that will mark the history of the church of Mangochi
Major celebrations are saved for the year 2018. It will be a double celebration. Fr. Ephrem will be thanking God for his 50 years as a Christian and not only that the young boy who once paid for his choice will be all smiles for having to have made it to the altar and has since served God as a diocesan priest for 30 years.On the other hand, Kausi Parish whose patron Saints are Joachim and Anna, parents to Mother Mary, will be celebrating her Golden Jubilee.