[cherry_row type="full-width"]
[cherry_col size_md="12″ size_xs="none" size_sm="none" size_lg="none" offset_xs="none" offset_sm="none" offset_md="none" offset_lg="none" pull_xs="none" pull_sm="none" pull_md="none" pull_lg="none" push_xs="none" push_sm="none" push_md="none" push_lg="none" collapse="no"]
[mp_heading]
the holy father names new cardinals
[/mp_heading]
[/cherry_col]
[/cherry_row]
[cherry_row]
[cherry_col size_md="12″]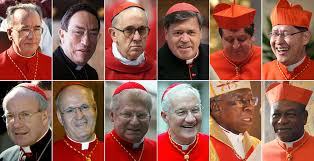 Pope Francis named fourteen new Catholic cardinals May 20, again diversifying representation in the most elite body of church prelates with selections from places as far-flung as Iraq, Pakistan and Japan and solidifying his influence on the group that will one day elect his successor. In a surprise announcement at the end of his traditional Regina Coeli prayer with crowds in St. Peter's Square, the pontiff said he would install the new cardinals during a consistory at the Vatican June 29.
As the pope began to give the names of those he would make cardinals, the first pronounced was notable: Chaldean Patriarch Louis Raphaël I Sako, an Iraqi who often speaks publicly about the suffering his people have encountered after the U.S.-led invasion of their country in 2003.Others named included Karachi, Pakistan Archbishop Joseph Coutts; Huancayo, Peru Archbishop Pedro Barreto; Toamasina, Madagascar Archbishop Desire Tsarahazana; and Osaka, Japan Archbishop Thomas Aquinas Manyo. Francis also named four Vatican officials: Luis Ladaria, head of the Congregation for the Doctrine of the Faith; Angelo De Donatis, vicar general of the Rome diocese; Giovanni Becciu, second-in-command at the Secretariat of State; and Konrad Krajewski, head of the pope's charity office.Eleven of the 14 cardinals named by the pope are under the age of 80, meaning they will join the ranks of cardinal electors, or those who are tasked with gathering in conclave after the death or resignation of the pontiff to select his successor. The June 29 ceremony adding the new cardinals will mark the first time in his five-year papacy that Francis has appointed a plurality of the prelates who will one day choose who succeeds him as head of the global Catholic Church.

After the ceremony, Francis will have named 59 of 125 cardinal electors. Forty-seven of the remaining electors were named by retired Pope Benedict XVI; 19 by John Paul II. The two other cardinal electors named by Francis May 20 are Leiria-Fatima, Portugal Bishop Antonio dos Santos Marto; and L'Aquila, Italy Archbishop Giuseppe Petrocchi.

Of the choices of Vatican officials, each is notable for their direct connection to Francis. The pontiff appointed Ladaria to lead the doctrinal congregation in June 2017; De Donatis to the Rome diocese role in May 2017; and Krajewski to lead his charity efforts in August 2013. Becciu was made the pope's "special delegate" to the Knights of Malta in February 2017 after the public dispute between the sovereign order and the Vatican, despite the fact that U.S. Cardinal Raymond Burke was and, still is, serving as the order's official spiritual patron.
[/cherry_col]
[/cherry_row]