After officially hitting the airwaves on August 24, 1999, Radio Maria Malawi was on Saturday, September 28 were celebrating its two decades anniversary at DMI University in Mangochi, Malawi.
In his homily of Anniversary Holy Mass, Bishop of Diocese of Mangochi who also chair The Communications Department at Episcopal Conference of Malawi, His Lordship Montfort Stima, hailed Radio Maria Malawi for working tirelessly in spreading the gospel amidst tough economic times and hardships, the Radio has gone through in the past 201 years of operation.
"My dear brothers and sisters, Radio Maria Malawi is one the most powerful asset or tool by which the Catholic Church in Malawi can use to advance its mission. Let us put our resources and energies together so as to propel vision and mission of the station". Bishop Stima said.
The Chair also saluted efforts by men and women who vowed to render their services to the radio on voluntary basis.  Hence, he imparted God's choicest blessing to them.
In her remarks guest of honor at the event who is also ex-Volunteer of Radio Maria Malawi and Member of Parliament for Mangochi North-East constituency, Hon. Mrs. Francisca Masamba Theula hailed all people of goodwill who have been assisting RMM in its operations such like financially, materially, and in all forms. However, she instantly injected MK 1,000,000.00 worthy support in running the affair of the media house.
Director of Radio Maria Malawi, Fr. Joseph Kimu applauded Rt. Rev. Montfort Stima for rendering overwhelming support to Radio Maria Malawi right from its birth.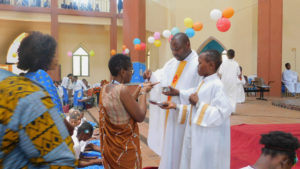 He said, 'it has been divine providence for the station to execute its duty effectively since running non-profit radio station its note a joke. Nevertheless, Bishop Stima worked so hard that Radio Maria Malawi finds working space and grows in the Archdiocese of Blantyre'. Quoting Pope St. John Paul II, Kimu said, 'Mary never fails', attributing the survival of Radio Maria Malawi and its success to Mary, the virgin mother.
Radio Maria Africa representative who serves promoter of 24 Radio Maria national stations, Miss Veronica Mwita from Tanzania was so optimistic in her address that Radio Maria World Family will help in relocating and Radio Maria Malawi into Lilongwe Capital City some time to come. On this note, she announced an official duty call of technical and engineering experts as early as October 2019 for site seeing and survey duties.
She further drummed up support for Radio Maria Malawi to slake its challenges.
At the event, the patronage observed a minute of silence in memory of deceased volunteers who died while serving for Radio Maria Malawi.
Friends of Radio Maria Malawi from all walks of life graced the event. The occasion saw veteran and long-time serving volunteers warded certificates of recognition for their faithful services to the house.