By: Louis Mkwazi
'HERE IAM SEND ME' this is what the Seminarians of Kachebere Major Seminary were singing as the first years had their Cassocks blessed. The Church looked colourful when those who entered the church in trousers and shirts dressed their Cassocks immediately after the Bishop blessed them.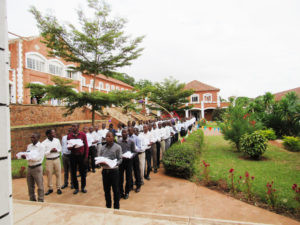 It was on 25th May, 2019 when the Rt. Rev. Bishop Montfort Stima presided over the Eucharistic cerebration where the Seminary saw 78 young men (the first years) got their Cassocks blessed.
In his homily the Rt. Rev. Bishop Montfort Stima expounded that the Seminarians should carry their cross and follow Christ.  He also lamented that some deliberately choose to drag their cross and some touch the cross pretending to carry it. When we carry the cross with enthusiasm, zeal, hope and Faith in the Lord without turning back, we will be successful in our mission.
The Dean of students encouraged his fellow seminarians to be focused and to trust in God no matter how bumpy and rough the road might be.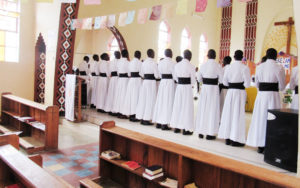 In his speech the vice Rector Rev. Fr. Enock Kanjira indicated that the first years came in a large number totaling to 81 hence the seminary decided to extend their waiting period in order to know them much better.
In his speech the Rt. Rev. Bishop Montfort Stima encouraged the Seminarians to realize their call and follow the footsteps of Jesus Christ responsibly. He also reminded the Seminarians that their Bishops and Archbishops are working day and night to raise funds to pay for their studies. "Some Bishops attend Church organized dinner and dance to raise some funds, learn to appreciate and be committed to your studies. We expect you to inspire other young men especially when you go for pastoral experience in different parishes" the bishop strongly emphasized. 
Kachebere Major Seminary celebrates cassocks day annually where the cassocks for the first years are blessed and given to them as a liturgical attire.