CLERICS COME TOGETHER IN MANGOCHI 
Ahead of Christmas season and festivities; and of course as we draw close to the end of the year 2018, the clergy in the catholic Diocese of Mangochi have been on a "holy week" (from 3rd to 7th of December) in the spirit of crowning the year gloriously.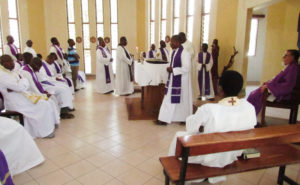 On 3rd December, 2018, members of the Association of Diocesan Catholic Clergy of Mangochi (ADCCOM) gathered for their Annual General Meeting (AGM) at the bishop's residence in Mangochi. During the meeting, members shared and evaluated an overall status of the association in the dying year, 2018. The gathering gave them a chance to make important decisions regarding the future activities and projects related to the association.
Speaking at the end of the AGM, ADCCOM Chairperson, Fr. Augustine Friday Phiri defined the AGM as a success. 'This is one of the best conferences we have ever had. It was well organised. Members patronised it. Deliberations were constructive with lively participation. It was a marvel for us as a family.' Said Fr. A.F. Phiri.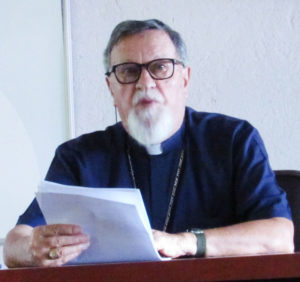 That very evening of 3rd December, the clergy were closed up for a four days spiritual renovation at Montfort Lake House in Mangochi. Bishop Alessandro Pagani, bishop emeritus of the Diocese of Mangochi preached the retreat on the theme 'The possibility of attaining holiness' basing his reflections on Sacred Scripture, lives of saints, encyclical letters and a little bit of situation ethics.
Finally, diocesan and religious priests in union with Bishop Stima collectively demonstrated their collaboration and collegial nature of their sacerdotal ministry as they came for a conclave on 7th December at Namiyasi. This was the last of its kind this year. The clergy have been meeting quarterly as a presbyterium in 2018.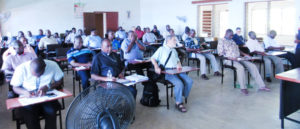 In his key note address to the presbyters Bishop Stima mention that every priests in the diocese has vital role in the running of the diocese. He however pointed out that the diocese has the strategic plan by which each priests and his need to be guided by in running of his pastoral affairs within the diocese. 'Let us own the diocesan strategic plan'. Bishop Stima said.
All anticipate a promising vigilance of Christ's birth, lovely Christmas season and another set of 365 days of hidden graces to explore.  The extra Holy week outside the ideal Lenten Season has challenged the priests to continue to strive for their holiness amidst their challenges. Do not be afraid to be holy, emphasised Bishop emeritus Alessandro Pagani.