A real friend is one who walks in when the rest of the world walks out, Walter Winchell.
March 2019 has been a month of learning visits and fortification of bilateral ties for Diocese of Mangochi.
A team of lay Catholics from Diocese of Mangochi led by His Lordship Bishop Montfort Stima visited Archdioceses of Blantyre, Lilongwe and Diocese of Zomba respectively. In a series of meetings scheduled for 16th, 23rd and 30th April, the team tabled issues with Friends of Mangochi Diocese on the holistic state of affairs of their home diocese as reflected in the vision, mission and plans for the diocese according to the pastoral programs as stipulated in the 2017-2022 Diocesan Strategic Plan.

Bishop Stima who chaired the three meetings, unveiled the current face of Diocese of Mangochi, citing both achievements and challenges experienced by the diocese for a period of time. He also elaborated the efforts engaged to bail out from the situations.
"In five years, the diocese has seen the best but also faced the worst. In five years, five new parishes have been created, and one more parish is yet to be opened soon. Over the years, we have begun setting up both canonical and lay structures as a diocese. These structures will institute our managerial system as a particular diocese. In no time, we will upgrade some mission stations to sub-parishes. The sub-parishes will enable ministers to be present to the people. Henceforth, the presence of the Church will be felt in one of the hard-to-evangelise regions in Malawi where inter-faith and religious differences incite modern persecutions." Bishop Stima said.
Among the challenges highlighted in the deliberations were the shortage of cleric personnel, due to factors like the decrease of missionary clergy; priests going study leave and mission programs in the US.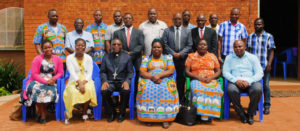 The meetings also discussed the welfare of diocesan clergy.
27th August each year is the feast day of St. Augustine, patron saint of Diocese of Mangochi. For years now the feast day is organised as a 'Diocesan Thanksgiving Day'. Apart from coming together to pray and interact, the faithful raise funds for medical and pension schemes of the local clergy in the diocese. Since this exercise began, it has not been possible to raise the required amounts.
Bishop Stima, therefore, appealed to the meetings to suggest ideas, ways and means to meet the demand of letting the local clergy get ensured considering that only health ministers may be effective and efficient.
"We need almost MK18m to cover the two schemes in question. How do we go about it?" Bishop Stima asked.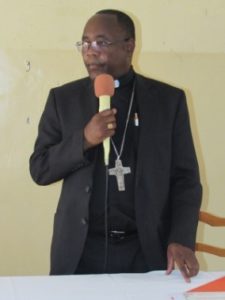 Putting to light the struggle to fund the formation of 34 major seminarians from Diocese of Mangochi who are in the two national seminaries of Kachebere in Mchinji and St. Peter's in Zomba, Bishop Stima said, "…from this year, the diocese will have to raise MK35m in order to keep our seminarians in the seminaries each year. May we together and explore avenues of coming up with funding for educating our seminarians," He implored.
Responding to the appeals made by Bishop Stima in his presentations, the chapters collectively expressed joy for being considered a visit, and for being considered worthy to contribute towards up-building of the diocese. The chapters, however, expressed solidary with the diocese towards facing the challenges. On parallel notes, the chapters promised to render necessary support to their home diocese unconditionally.
In her words, Blantyre chapter chairperson, Mrs Rose Kazombo Mwale, promised to help bail out the diocese from financial concentrates by organising several fundraising activities either in Blantyre or elsewhere.
 "This meeting compels us to get back to our drawing table again and start again planning not just for this year's Thanksgiving Day but also for the challenges the Church is facing back home as indicated in the deliberations. Blantyre chapter promises to help. We are to hold fundraising activities and be assured that 2019 Thanksgiving Day will be different. This time Blantyre chapter will be coming harder than ever," Mwale said.
Mrs Edith Maseya, Chairperson of Lilongwe chapter resounded Mwale's sentiments when she described the meeting as a timely launched arsenal that will serve a greater purpose since the newly elected diocesan lay leadership sets off together with newly elected Friends of Mangochi leadership in the Archdiocese of Lilongwe. She, however, promised support.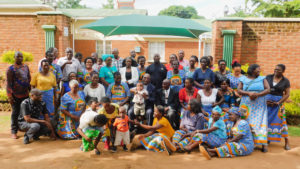 "For the love of home diocese and for the love of our Church, Lilongwe chapter pledges support. It is motivating to realise that our diocese considers us of support. We are thrilled to support our diocese," Maseya said.
Mr Chawanda who spoke on behalf of Zomba chapter chairperson, Mr Daniel Mahete, expressed the readiness of the chapter to commit itself in supporting is its struggles. He, however, called for collegiality of all friends of Mangochi Diocese for a better, effective and timely response to challenges at hand. He henceforth promised representation to the first ever Diocesan Fundraising Meeting to be held on 6th April 2019 prior to visits.
The three meetings crafted a forum where propositions, suggestions, ideas and methods were gathered for digestion on the first Diocesan Fundraising meeting.
Friends of Mangochi initiative was first born with Lilongwe chapter about 10 years ago. Catholics in diaspora formed the group with the intent of getting to know each other, share moral and spiritual support and at all cost respond to the needs of their home diocese.
Meanwhile, Friends of Mangochi Diocese are only organised in the cities of Blantyre, Zomba and Lilongwe.