CHILDREN ARE BAPTISED AND SENT TO PROCLAIM THE GOSPEL.
"Every child is a gift to his or her family, good children are assets to the community while God-fearing children are a blessing to the world," said Karol Wojytla in his 1981 World Youth Conference address.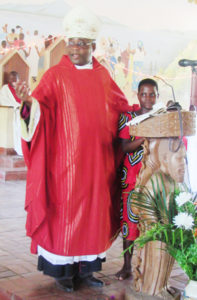 In the spirit to spare no chance in raising children responsibly, thousands of Catholic children from the 5 deaneries of Diocese of Mangochi came together to celebrate Holy Childhood Day at Koche Parish in Mangochi on December, 28th this year.

Bishop Montfort Stima led the celebration with a High Mass. In his sermon, Bishop Stima invited the youthful congregation be light, opt for light and bring light to the world.
"It doesn't matter where you are allocated. Be models to peers when at school, home or church. Let your way of life bring joy and not snatch it out from others. Obedience, selflessness, responsible attitudes are attributes found in children that radiates light to others. I urge you to opt for light."  The bishop stressed.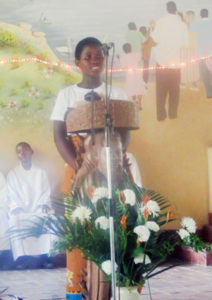 Prisca Lupia from Balaka Parish spoke on behalf of all children in the diocese. The chemistry of her public address skills and the fusion of old adages in the speech, thrilled her audience. In her statement, Prisca expressed sincere gratitude for the support received by children from all pastoral agents committed in the formation and catechetical care of children from the 24 parishes of the Diocese. She however, appealed to fellow children in the diocese to deceit or refrain from hypocritic life styles.
Prisca reminded everyone that January 6th, 2019 is Epiphany Day, henceforth preparations  in readiness for the day ought to start.
"Epiphany is our day. Let us patronise it. We have roles to play on the day. We turn up for prayer when the day comes." She added.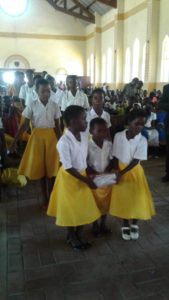 In his words, Fr. Philip Polokera, the acting diocesan PMS Director in Mangochi, thanked Bishop Stima for gracing the occasion and for his unceasing support on issues related to little children. "…your presence here is a clear expression of your great love for children and the future Church." Fr. Philip said.
Finally, Bishop Stima extended his seasonal wishes to all children in the diocese. In his remarks, the bishop expressed joy for the success of Bible Quiz Tournament in 2018. He however promised its contiquity in the year to come.
"With or without funding, Bible Quiz Tournament (BQT) will be there in 2019. The quiz completion has noticeably enhanced your zeal to read the Holy Bible, love it and grow spiritually. I have received these positive sentiments from all over. I therefore promise that the tournament will be decorated with a trophy next year. Continue reading your Bibles." Bishop Stima urged.
All liturgical roles during the Eucharistic Celebration were ably handled by the youthful congregation led by children from Koche Parish. A marvel of them all was the choral team that gloriously led in the singing aided by Jacqueline Matemba as choirmistress.
After the High Mass, all kids were served with lunch at Mulangeni Holiday Resort followed by final round quiz completion and various entertainment activities. Ulongwe Parish merged winners of 2018 BQ Tournament. The team went away with a 3 brand new soccer balls, notebooks and pens.
2018 Holy Childhood Day was commemorated under the theme, Children are Baptised and sent to Proclaim the Gospel.