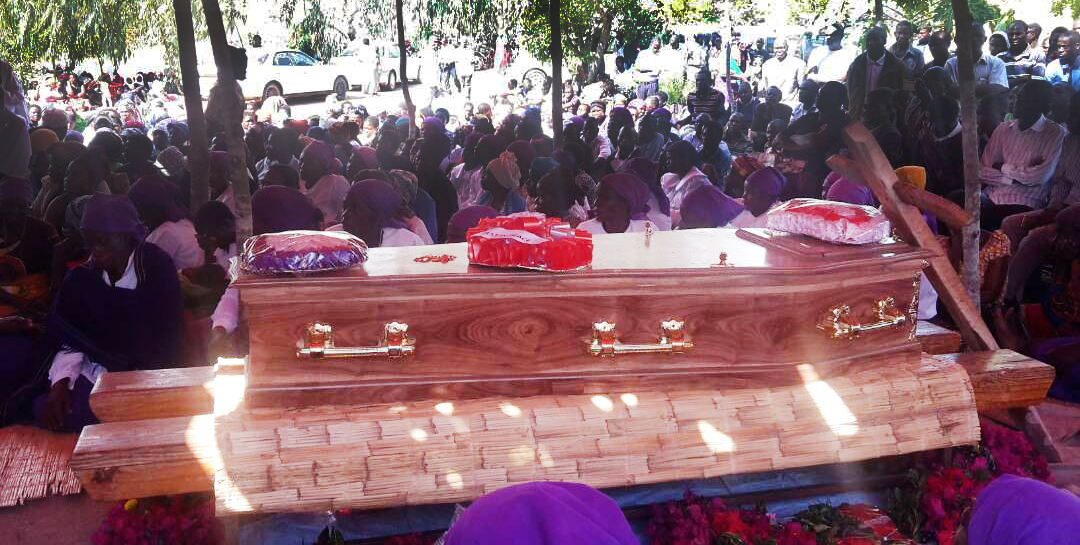 Hundreds Mourn Maximos Chimbwanya, 'the unsung hero'
[cherry_row type="full-width"]
[cherry_col size_md="12″ size_xs="none" size_sm="none" size_lg="none" offset_xs="none" offset_sm="none" offset_md="none" offset_lg="none" pull_xs="none" pull_sm="none" pull_md="none" pull_lg="none" push_xs="none" push_sm="none" push_md="none" push_lg="none" collapse="no"]
[mp_heading]
hundreds mourn maximos chimbwanya
[/mp_heading]
[/cherry_col]
[/cherry_row]
[cherry_row]
[cherry_col size_md="12″]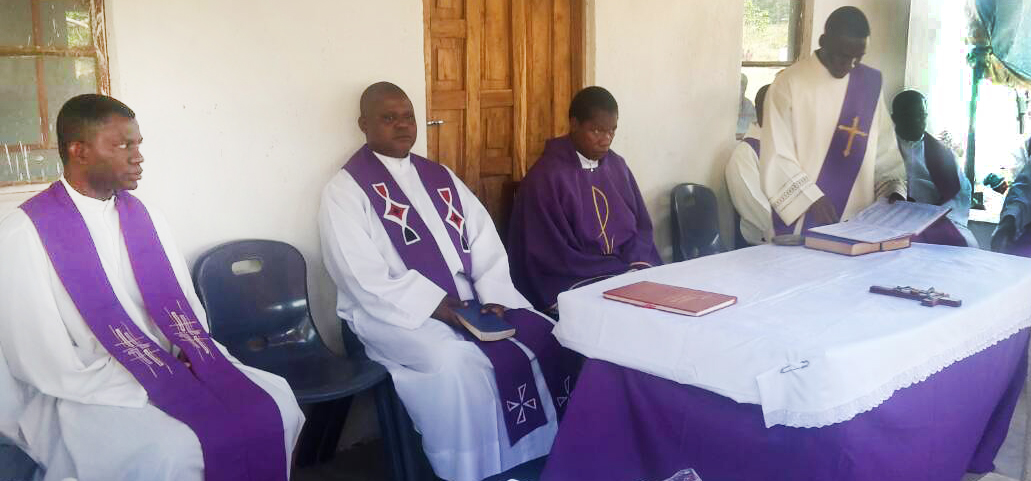 On Monday morning, 28th May 2018, hundreds gathered in Asibu Village, Traditional Authority Kawinga in Machinga to pay their last respect to Maximos Paul Chimbwanya, biological father to Rev. Fr. Medrick Chimbwanya who passed on in the wee hours of 26th of May 2018 at Mulibwanji Hospital at the age of 86. Maximos was subject to chronic ailments related to old age.
A rite of committal began at precisely 10:45 in the morning with a Holy Mass presided by Fr. Chimbwanya as his last gift to a man who he knew and loved so much. The sermon took place at the Chimbwanya residence in St. Mary's Parish (Ntaja).
Fr. Frank Chingale who is the vicar general of Diocese of Mangochi opted 'FAITH' as theme for his homily. With reference to the biblical Job (Jb.19:1.23-27), he called the congregation to mirror on the faith of late Maxmos Paul as a point of reflection. "Let us draw lessons from others whilst they live and not after they are gone! The well lived life of the deceased is a lesson." He exclaimed. He however mention that the deceased was a man of unwavering faith who wasn't selfish but shared this faith with others starting from his wife and children.  He adduced his love of sacramental life, love of prayer and strong hope in the doldrums of his life as clear testimonies of the faith he lived. "The deceased here was a gift to his family and the people around him. He believed in the formation of the whole human person. While he educated his children, he also remembered to pass on Christian values and ethics as he believed in them. The celebrant here (Fr. Chimbwanya)is a fruit of such a faith". Fr. Chingale said.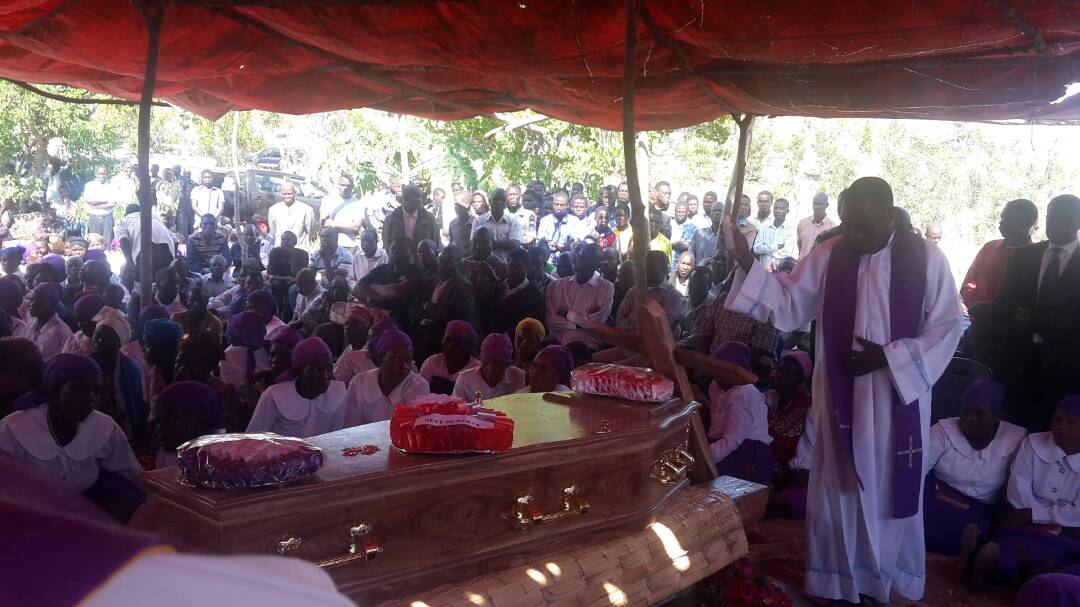 Group Village Headman Asibu was all praises in his eulogy. He described the deceased as man who respected others, corrective and peace loving, humble and welcoming, hardworking and exemplary. He however called for the Chimbwanya family to emulate the attributes and  character, the deceased was. "Your father was a singular man that portrayed sentiments worthy celebrating as we do today, if the 9 of you live by his example, you will make Asibu Village admirable land to live in. Make your father proud". He pleaded. In conclusion he asked all to live in peace with the deceased's children.
Maxmos Chimbwanya was born on 12th August 1932 in a family of Paul and Cecilia. He later got married to his wife in 1954. As a young man he worked as a primary school teacher, court clerk and ADMARC Cashier. After retiring from his official duties he laboriously invested his time as an extension farmer, cultivating tobacco and rice.
Maxmos lost his wife in 2016 and he survived with 9 children and tens of grandchildren.
Yes, the icon is gone but his legacy lives on. Rest in Perfect Peace Maximos.
[/cherry_col]
[/cherry_row]