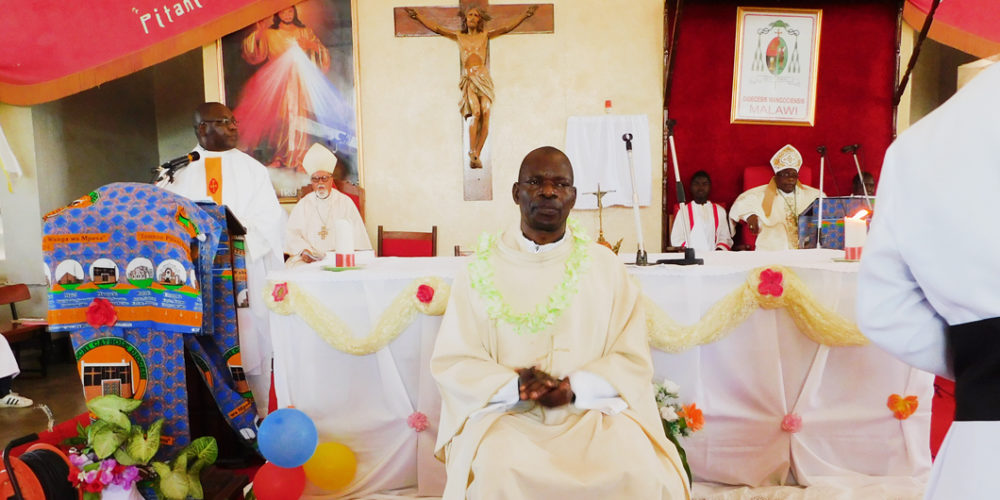 FR. DANIEL P. KALIAPA TURNS 25 IN PRIESTHOOD – THE CHURCH CELEBRATES.
The Catholic Diocese of Mangochi was on Saturday, July 9th in festival mood ignited by Fr. Daniel Piyo Kaliapa's celebration of 25 years of service as an ordained minister in the Catholic Church. The celebration that took place at St. Augustine Cathedral in Mangochi began wth a High Mass officiated by Bishop Stima. Multitudes from all walks of life graced the occasion.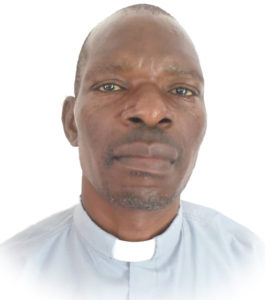 In an interview with Events Team Chairperson for Diocese of Mangochi, Mr. John Ghocho, he told our reporter that July 6 2019 shall remain a historic day for the Catholic community in the Diocese of Mangochi and Fr. Daniel in particular.

"The event affirms that Fr. Daniel is  a very senior priest. He comes 7th to turn the silver medal in local presbyterium of 65 ministers in the diocese. He hence deserves a mantle of faithful service and just just one of excellency," Ghocho said.

Ghocho also added that the event is of more significance considering that Fr Daniel stands out a mentor to junior priests and those in fomation because he has been a man of a principled style of life.

'I am pretty sure that the occasion is an inspiration for some youths to consider serving God through priestly vocation." Ghocho added.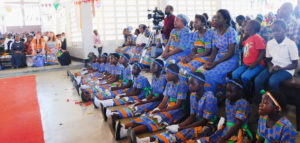 In his sermon, Bishop Montfort Stima mentioned health recall of past experiences, celebrating priesthood as God's grace and renewal of clerical vows as three fundamental elements calling for celebration of Fr. Daniel 25 priestly years. However, he said that in 25 years, Fr. Kaliapa lived by the priestly values and for this he has been an example of a simple, happy and dedicated priest.
"God calls men to serve Him as priests not because they qualify in any other way. He call humanity to serve Him for the salvation of all. None of our qualities grants one mandate to minister as a priest. None of us deserves what he is, yet we are all worth what are as ordained ministers in and of his Church." Bishop Stima proclaimed.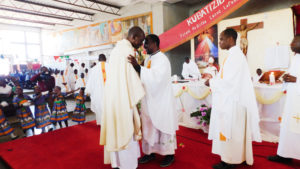 "Like any other priest, who ought to help people get closer to God through evangelization, celebrations of Masses and administering of sacraments in accordance to the principles to the Catholic Church, Fr. Daniel needs prayers to execute his duties faithfully.  I urge you to unceasingly pray for all ordained ministers." He added.
In a speech made to congregants which began with a 'thanksgiving hymn' led by him, Fr. Daniel was so humble to acknowledge that priesthood is God's given gift. Hence, he thanked God for the gift of priesthood. Fr. Daniel also remembered to thank all individuals that reached out to him with support in 25 years of service. However, he petitioned for more support and prayers so as to serve God and people more faithfully.

Fr. Daniel Piyo Kaliapa hails from Mbanila Village in Nsanama Parish in Machinga District.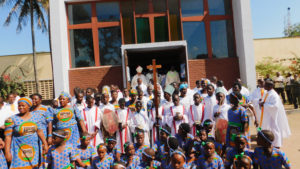 In 1983, little Daniel found himself in the corridors of Nakhunda Minor Seminary in Zomba. After his secondary school education,  he joined Kachebere Major Seminary in Mchinji and later St. Peter's Senior Seminary in Zomba
He was ordained deacon in 1993 by Bishop of Diocese of Zomba, Rt. Rev Allan Changwera. On July 6th, 1994, Bishop Alessandro Assolari of Diocese of Mangochi ordained him a priest at St. Augustine Cathedral.
As an ordained minister, Fr. Daniel has served at Kapire, Utale II, Namalaka, Utale I, Mpiri Parishes. He has also been to St. John the Baptist Major Seminary and St. Paul the Apostle Seminary as an educator and formator. Currently, Fr. Daniel is parochial vicar of Nankhumba Parish.

"I have other sheep that do not belong to this fold. These I also must lead…" (Jn. 10:16) is the motto that had kept driving Fr. Daniel Piyo Kaliapa for 25 years in his ministerial life