SUPPLET ECCLESIA IN THE CANONICAL DISCIPLINE
The Diocese of Mangochi has added one more canonist after Rev. Fr. Israel Madziakaphwa recently successfully defended his doctoral thesis leading to the eventual award of a doctoral degree in canon law.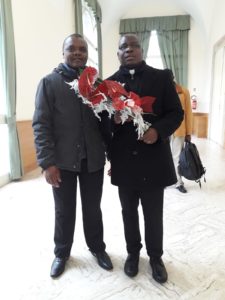 Fr Madziakaphwa becomes the second priest in the diocese to attain a doctoral degree after Fr Lazarus Girevulo.
Doctor of Canon Law is a doctoral-level terminal degree in the studies of canon law of the Roman Catholic Church.
Fr Madziakaphwa has been studying canon law at the Pontifical Urbaniana University in Italy for about six years now. The first three years were for a licentiate degree (equivalent of a Masters degree in the secular world).
This means Father Madziakaphwa is qualified to undertake any responsibilities pertaining to canon law at all levels. He will also be able to help the diocese, institutions, priests, religious, Christians to understand their roles in the church and of course their rights.
"I feel relieved to have finished studies; and I wait for the service I have to offer after gathering this knowledge," said Fr Madziakaphwa.
"I want to thank everyone for supporting me in this academic journey: my bishop, His Lordship Montfort Stima for giving me this opportunity, priests from the diocese and beyond, [the] religious, my immediate family and friends all over. I thank them for the support, financially, spiritually but also emotionally," he added.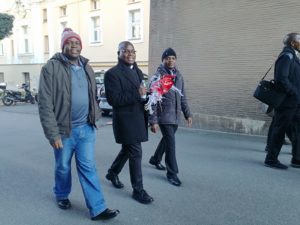 Fr Madziakaphwa successfully defended his thesis titled Supplet Ecclesia in The Canonical Discipline: A Study of Canon 144.
The study is based on the general norm of Supplet Ecclesia, which means "the church supplies", whose disposition is applied to the celebration of the three sacraments; marriage, confirmation and penance.
"The idea is to bring to the fore what kind of celebration would be invalid and how would the church supply the power missing in this situation of invalidity, if really the action needs to be validated. So, the thesis is based on the general norms (Book I of the code of Canon Law) and applied in the sanctifying office (Book III of the same)," said Fr Madziakaphwa.
The thesis was moderated by Prof. Elias Frank and Prof. Ernest Bonaventure Ogbonia Okonkwo but it was censored by Prof. Andrea D'Auria. Currently, Fr Madziakaphwa is working on publishing the work.