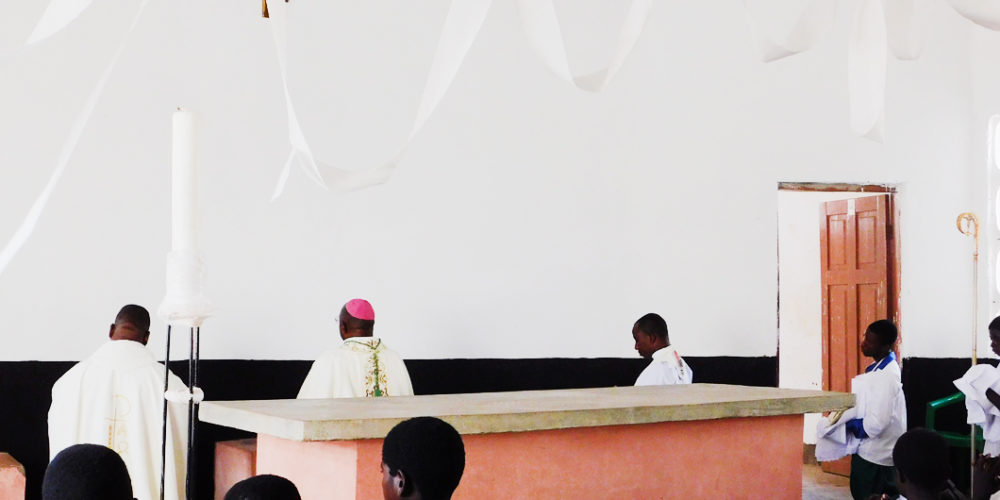 NEW KAPAKO CATHOLIC CHURCH DEDICATED – Bishop Calls for Self Sanctification.
The dedication of a church is always a most inspirational and joyous hour.
With a symbolic knock on the front door and a procession led by Bishop Montfort Stima, St. Peter the Apostle Catholic Church of Katema Parish officially opened its church building after years of hands on. A couple of hundreds parishioners and guests attended  the three hour dedication mass presided by Bishop Stima on June 25th.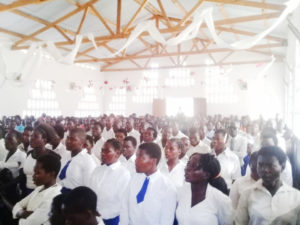 The new church building that serves Kapako Outchurch is the culmination of years of struggle and hard work by both the diocesan administration and parishioners of Kapako.
In his adress after the dedication Holy Mass, Fr. Kizito Khauya, pastor of Katema Parish, implored the the faithful and entire community to take care of the new Church structure for it stand as a dedicated prayer hiuse and a development asset in the area.
"Kapako's face is brighter because of this special building meant solely for prayer. Take good care of it".  Fr. Kizito said.
He also reminded the faith community of God's love. "YOU ARE LOVED." "All that we see is evidence of God's love, and thus what the bishop said thru and the his sermon. LOVE".
In his homily at mass, Bishop Stima called on the faithful to se God's active hand in what they experience.
"God is love," the bishop said, focusing on the Holy Sacrifice of the Mass which will be offered on the consecrated altar. "Here we taste and see the goodness of the love of Christ."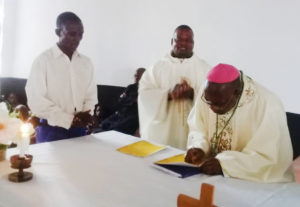 "It is Christ who will baptize, who will inspire to faithful living, who will make faith part of marriages and families. It is Christ who will renew hope among the community," the bishop said.
"You don't build a church like this unless you love God," the bishop added. The Bishop also called for the attention of congregation to look up at themselves as God's dedicated temples and sanctifying vessels of His Holy Church.

"God is asking you today to build more than a physical building in your hearts,"  I challenge you today to reach out to fallen away Catholics, and those that still don't share the faith that together we continue to build up the church in Kapako.  Procreating is not the way of build a church in 2019.  Self sanctifyication is all we need to turn people's hearts to God and be sacred temples ourselves. Thus a temple of humility, a temple of reverence, a temple of respect, a temple that reminds us that no matter where you turn, that reminds us of God." "It is splendid; it is glorious." The bishop said.
St. Peters – Kapako Church was established 60 years ago and has a populaton of  900 Catholics. The new church is its first permanent worship space with a capacity of  padded seating for 1200 congregants.