By Moses Masiye
As the Poverelle Sisters of the Catholic Church commemorated 150 years of existence on May 26, 2019, Bishop Montfort Stima of Diocese of Mangochi has pleaded with families to consider dedicating sons and daughters to priesthood and sisterhood respectively.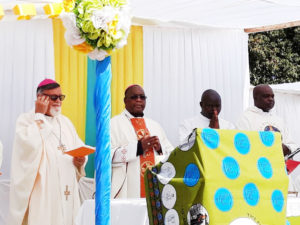 Bishop Stima made the call on Sunday at St Charles Lwangwa in Kankao Parish where Poverelle sisters in Malawi commemorated 150 years.
It is not convincing to see that there are only 14 Poverelle Sisters despite being in the country for over 35 years.
I would like to urge parents to dedicate their daughters to the Lord and pray for their success throughout the journey," said Bishop Stima.
The Bishop commended the Poverelle sisters for uplifting lives of the underprivileged in society through education, health and special needs care among others.
Sister Barbara Bhima who is the delegate for Poverelle sisters in Malawi and Kenya says they are geared to continue showing a face of love for the hopeless people who think all is lost.
She said:- "We are committed to continue taking care of the vulnerable society in our communities by showing them God's love wherever possible."
The Poverelle Sisters is a brainchild of an Italian wealthy R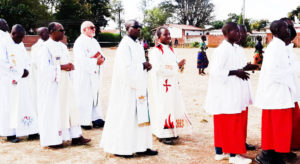 oman Catholic priest Luigi Palazzolo, who in the year 1869 asked sister Teresa Gabrielli to take care of a poor-sick child resulting into formation of Poverelle sisters.
Poverelle sisters came to Africa in 1952 first in Zaire (now Democratic republic of Congo), then Ivory Coast in 1974 and Malawi in 1983.
Bishop Alessandro Assolari of Diocese of Mangochi then, asked the Poverelle sisters to come to St Charles Lwangwa parish Kankao- Balaka, to take care of children with disabilities.
They have to date opened other formations in Mikoke in Ntcheu and Matumba in Dedza under the diocese of Dedza.
Poverelle sisters have constructed several community hospitals and schools among other developments.