[cherry_row type="full-width"]
[cherry_col size_md="12″ size_xs="none" size_sm="none" size_lg="none" offset_xs="none" offset_sm="none" offset_md="none" offset_lg="none" pull_xs="none" pull_sm="none" pull_md="none" pull_lg="none" push_xs="none" push_sm="none" push_md="none" push_lg="none" collapse="no"]
[mp_heading]
spas alumni make a donation on feast day
[/mp_heading]
[/cherry_col]
[/cherry_row]
[cherry_row]
[cherry_col size_md="12″]
Malawi's 2017/18 academic calendar draws to an end. 21nd June, 2018 starts the famous MSCE Exams. Tensions are obviously high for fourth year learners in secondary school education studies. It is time to separate men from boys. A contagious fear is passed on from learners to teachers, from one academic institution to another and  off course from wards to their guardians. No one is left out. Yes! It's MSCE phobia.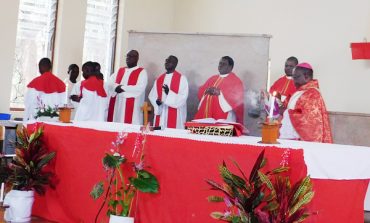 On a Saturday, 17th June 2018 saw SPAS fraternity holding a joint grand celebration. The Seminary bid farewell to 25 form four seminarians and celebrated the feast Ss. Peter & Paul the Apostles on the very occasion.
It all began with highest activity, a Holy Mass.  Rt. Rev Bishop Montfort Stima presided over the Mass in seminary's students' chapel. Seminarians, formators, teachers, guardians, alumni, priests and distinguished guests were in attendance. St. Bakhita Catholic High School in Balaka was a guest school of the occasion.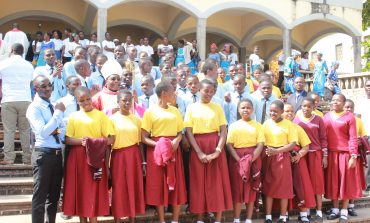 Early in the day, former Seminarians at SPAS (SPAS Alumni) held an annual general meeting where a new leadership was put into power. Mr. Rick Chikweke was appointed the new SPAS Alumni Chair taking the position after the outgoing chair, Mr. Charles Baluwa. On the same occasion the alumni presented to the seminary a donation of 80 mattresses worthy over MK 2.5 million. 'Take good care of this donation. We wish to these mattresses serve you for a reasonable period of time. It is for our love of Mother SPAS and you our brothers that we have made this presentation', Mr Baluwa advised. SPAS alumni have on repeated occasions assisted in SPAS in needy areas.
Catholic Women Organisation (CWO) also made a presentation of assorted food times to the seminary.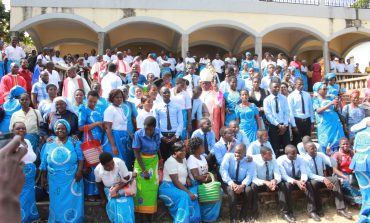 The seminary warded best students in distinct categories they well performed in their seminary life.
Now in his speech, Rev. Fr. Simon Mundisiye, SPAS rector, commended the outgoing class for its understanding attitude displayed over the period spent in the seminary. 'I urge to cherish as an understanding spirit and let that be inculcated in the communities you will soon join. In life you will never have perfect situations. Life is like a mirror, if you have good character it will reward you favourably. Remember that character is an important asset,'  he retorted.
Various indoor and outdoor sporting activities mulled the day. The Alumni put on show their obsolete soccer skills when they failed to outmatch the fresh blooded lads.  It wasn't just a start of proving the old axiom of separating men from boys wrong but also time for SPAS to predict its better upshots in the forthcoming MSCE Exams by stinging Bakhita in all sporting activities contested side by side.
[/cherry_col]
[/cherry_row]