By Charles Pangani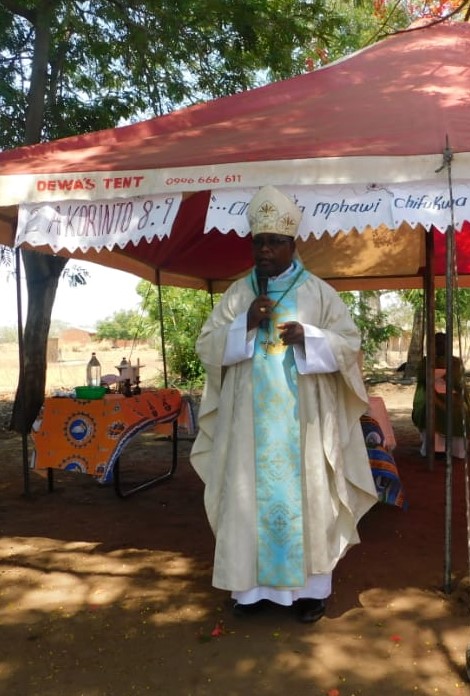 The thirty-third Sunday in the Ordinary time is the World Day of the Poor in the Catholic Church. It is a day, established in 2017 by Pope Francis, on which every Christian is called to show some solidarity to the poor. In the year 2022, the 13th November was the sixth observance of the World Day of the Poor. According to Pope Francis, the theme of this year was "For your sakes, Christ became poor" (2 Cor. 8:9). In his letter, Pope Francis said that the World Day of the Poor helps us to have a personal reflection on the style of life and on the many forms of poverty all around us.
In the diocese of Mangochi, this observance took place at St. Peter's (Lulanga) parish. All the lay faithful in this diocese were asked to take part in this observance by offering different items to this parish. This observance started with the Eucharistic celebration which was led by the bishop of this diocese, Rt. Rev. Montfort Stima.
In his remarks, bishop Stima said that God did not create human beings to suffer, but due to selfishness of mankind, the behavior of the people has contributed to destruction of peace due to war and different pandemics including COVID-19. He therefore pleaded with all Catholic Christians to be hard workers in all aspects of life with a tireless heart and in so doing, they can reduce the level of poverty among themselves.
Commenting on the same issue, Fr. Steven Pondani, who is the parish priest of Lulanga parish, said that having a hard-working spirit gives opportunities for people to transform their lives, starting from the household level up to building a self-reliant church. However, he asked the Catholic Development Commission (CADECOM) to consider their parish with vocational training that will help in building a church of self-reliance.
Speaking on behalf of all Christians, Mr. Daniel Bwanali, the chairperson of the Laity council encouraged Christians to be both prayerful and hard workers.