By Communications Office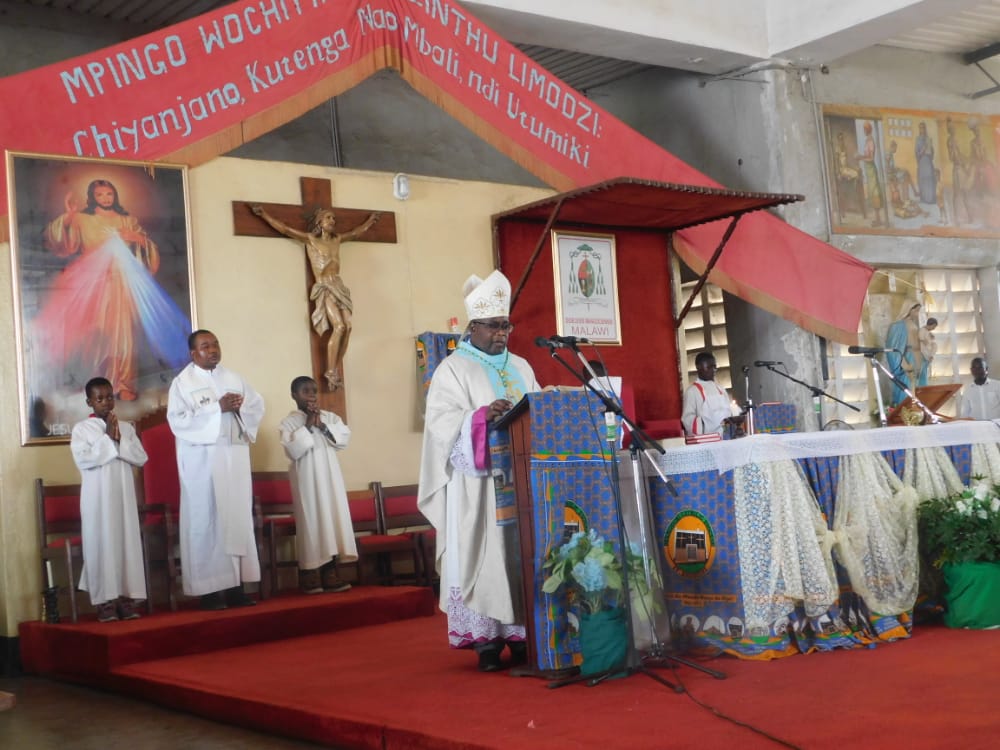 As Mangochi diocese clocks fifty years of existence next year since it was created in 1973, the bishop of the diocese of Mangochi, Right Reverend Montfort Stima, through his letter to the Church of Mangochi and beyond, made an official announcement of the diocesan golden Jubilee on 05th November, 2022. Bishop Stima said that the launch of this celebration will take place on 10th December, 2022 at Mangochi Cathedral parish.
In his letter, the bishop said that as we celebrate the fifty years of existence of the diocese of Mangochi, we should take it as an opportunity to thank God for the gift of the missionaries who instilled faith in our forefathers. He said that this time of celebration will be an opportunity to reflect on our past and see how we have reached this far in order to plan well for the future church. For this reason, the theme of this diocesan golden jubilee is: MANGOCHI DIOCESAN GOLDEN JUBILEE: AN OPPORTUNITY FOR SPIRITUAL, PASTORAL RENEWAL AND SOCIAL ECONOMIC DEVELOPMENT.
Bishop Stima also said that there will be a lot of activities that will take place as we journey towards this big celebration and some of them have already started taking place. For example, there is a special committee at the diocese level whose chair is the Vicar General- Fr. Davie Mambo- and it will help in the preparations for this celebration. To make sure that such preparations are done smoothly and that people in the parishes are involved, bishop Stima also asked the parishes of this diocese to come up with their own committees in order to create a link between the activities of the main committee at the diocese and those committees to be formed in the parishes. There are also activities like reciting the golden jubilee prayer from the day of its launch up to its actual day of celebration, pilgrimages within or outside the diocese, encouraging the sacrament of Penance and Reconciliation and having Adoration hours on Thursdays and Saturdays among others.