HISTORY OF ST. PAUL THE APOSTLE MINOR SEMINARY
St. Paul the Apostle Minor Seminary affectionally known as 'Mother  SPAS' by the students, is found in the diocese of Mangochi and it opened its doors on 4th November 1985. It is a special institution where Catholics boys who feel called to the life of priesthood are helped to discern their vocation and are given appropriate means to strengthen and embrace this call. The seminary's core function is therefore to lead seminarians on their journey to discover what is expected of them and respond freely and responsibly to the will of God.
St. Paul the apostle minor seminary which is found in Mangochi district is located at the foot of Chiusi Hills, along Mangochi, Namwera road, Bakili Muluzi high way.
THE BEGINNINGS
Tribute to the Late Bishop Alessandro Assolari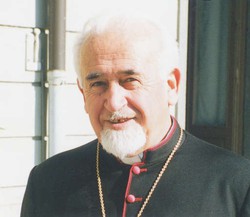 The late bishop Allessandro Assolari founded this important institution with an aim of providing a conducive  environment  to young men who feel called to the priesthood by god to discern deeply this call and follow it. The idea was very challenging and demanding but god blessed the work.
Born on august 26, 1928 in Bergamo, Italy, he was ordained a catholic priest of the missionaries of the Company of Mary (popularly known as Montfort missionaries) on march 13, 1954. Soon after his ordination, he was dispatched on a first possible ship to serve god among the people of Madagascar then Zomba diocese in the then Nyasaland a short while later. When Mangochi was elevated prefecture apostolic of Fort Johnstone on may 29th 1969 then promoted as a diocese on September 17th 1973, he was appointed its apostolic prefect then first bishop. He retired on November 2th, 2004 and eventually died as an emeritus bishop of the diocese during his holiday in Italy on April 13 2005. He was buried in his home village in Bergamo , Italy. The diocese's jurisdiction reigns within an area of 11,385km2 .It covers the whole part of Mangochi and parts of Machinga and Balaka districts. Until his death , Mangochi was the only diocese in Africa to have its own complete seminary formation system; Holy cross preparatory seminary at Ulongwe, the magnificient work of architecture – St Paul the Apostle Minor Seminary beneath Chiutsi Hills and the epitome of priestly formation – St John the Baptist Major Seminary overlooking  Lake Malombe , housing both philosophy and theology faculties. The motto for st. paul seminary is ' bonum certamen certa' Latin expression which means : 'fight a good fight' a biblical text from ; 1 timothy 6:12. The motto stresses the need to fight for our faith so that we can win the eternal life for ourselves and for others. It is really a call that we are all  called to respond to as long as we live.
Silver Jubilee
The success of the seminary is hinged on its ability to produce priests. About 38 young men have been ordained priests and some of them have been in active priestly ministry for close to 14 years. This means that within the past 24 years st. paul the apostle minor seminary has managed to produce over half of the entire local workforce the diocese of Mangochi has.
There is a clear indication that  the seminary in as long as it exists, shall  give hope of some more priests to be ordained, and therefore more local clergy in the diocese. Besides those working as ordained priests, the minor seminary's contribution in the civil society cannot be undermined. To date, about 1567 students have passed through the corridors of st. paul seminary .Of these, 25% have been ordained priests, 26% are still undergoing formation while 49% are plying various trades in the world, to the social and economic well being of our country and elsewhere.
SEMINARY'S PILLARS FOUNDED AFTER ST. PAUL THE APOSTLES LIFE AND TEACHINGS
Guided by its motto, 'fight a good fight', St. Paul the Apostle Minor Seminary strictly aims at educating and developing the whole person. For this reason; the seminary has four main areas of focus, namely spiritual, intellectual, social and pastoral. These are the four pillars by which the seminary is guided in its endeavor to develop young men holistically as they undertake the long journey to discern their vocation to the priesthood.
Spiritual life
During their stay in the seminary, seminarians are expected to cultivate a deep life of prayer, communal and personal, which is an important requirement in the formation of the future priests. Apart from having daily Eucharistic Celebration, the community of st. paul enjoys a daily program spiced up by moments of prayer and other spiritual activities like the daily rosary, weakly spiritual talks by the General Spiritual director, Eucharistic  benediction , monthly recollections, annual retreats etc.