EMULATE YOUR PATRON SAINT, SAYS BISHOP STIMA
Many of us consider ourselves generous when we shower our gifts on others. Yet, not for one moment do we feel thankful to the one who receives what we give. Giving is fine, yet receiving is more dignifying and carries with it delightment even though the receiver demonstrates humility by accepting gracefully.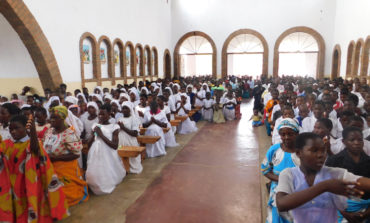 On November 4th 2018, on the occasion of administration of the Sacrament of Confirmation and commemoration of St. Martin de Porres who is patron saint of Nsanama Parish, Bishop Stima reprimanded Catholics from the parish to be witnesses of the gospel, their Christian faith and Jesus Christ in all their undertakings. Alluding to St. Martin de Porres as perfect example of a man who witnessed the Gospel, the bishop implored the congregation to emulate him. 'St. Martin de Porres was intelligent, not self-centered, educated and gifted person who didn't count what he was and what he had but instead worked so hard for and with the nobodies. This is how he was a perfect witness.' Said Bishop Stima.
In an interview with our correspondent after the Eucharistic Celebration, Bishop Stima substantiated his point when he said the Holy Spirit receipt on Confirmation spares no one with its sacred gifts. 'Like the three men of the parable of talents in the Synoptic Gospels, some who receive sacred gifts on Confirmation choose to either invest while others bury or abuse the talents. Read your Bible.' He said.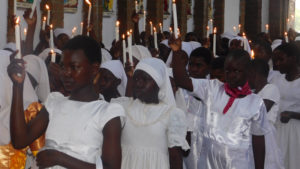 In his message to all, Fr. Matthews Likambale, Parish Priest of Nsanama Parish sounded gratified for the bishop's acceptance to administer the sacrament.
Hundreds of Catholics from the 22 outchurches of Nsanama parish came to witness the reception  tongues of fire by the 210 disciples of Christ.