CATHOLIC WOMEN TO SANCTIFY THE WORLD
Women from the 8 Catholic Dioceses in Malawi are meeting at Machinga Teachers Training College in Zomba District for a three full fresh days annual general meeting (AGM).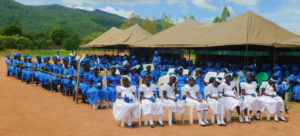 The theme for 2018 National Catholic Women Organisation AGM is "Catholic Women Called to Holiness to Sanctify the World for the Holistic Development". The theme is drawn from World Union of Catholic Women Organization (WUCWO) symposium which took place in Darkal – Senegal sometime in September this year.
In his sermon during the inaugural Mass, His Lordship Rt. Rev. George Desmond Tambala of Diocese of Zomba urged the women to look up to the Virgin Mary as model of obedience who called upon the apostles do what Jesus asks of them at Cana. He henceforth counseled them to wake up from spiritual slumber, embrace being womanhood as a vocation and be catalysts of development in their loci.
"The Virgin Mary instructed Christ's disciple to do whatever He tells them and by this she left us lesson on humility. You too do whatever He tells during your conference". Bishop George said.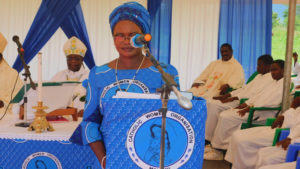 After the Eucharistic Celebration, Dr. Ngeyi Ruth Kanyongolo, the guest of honor to the conference, addressed the jamboree. In her statements, Dr. Ngeyi expressed total modesty when she told her audience that she finds herself not worthy being be thrilled as guest at the conference. Additionally she made an appeal to her audience. "Be women of integrality, those that support each other in all positive spheres and very hard working. This is the way to progress." Dr. Ngeyi said. "There is however a risk of being abused if we do not each other. Get to know that, if you aren't at table, you may be on the menu". She drolly added.
In her counsel, Kanyongolo encouraged all women to render overwhelming support to zealous women members in all political, and decision making bodies and of course those aspiring for such.
In an interview our reporter had with National Chairlady of Catholic Women Organization Mrs. Elizabeth Meke, she furrowed the agenda for the conference. "On our table are diocesan reports, 2018 WUCWO resolutions, brainstorm on CWO strategic plan and time to recollect with Fr. Chaweza. However, all our deliberations settle around our theme". Meke said.
By third day, the 2018 CWO National AGM is mandated to elect new national office bearers that will have to run the organization for three good years.
Arch-Bishop Thomas Luke Msusa of Blantyre Arch-diocese, Bishop Montfort Stima of Mangochi Diocese and Bishop Tambala graced the occasion.
The national conference winds up with a solemn Mass led by Bishop Stima on 22nd December afternoon.