Namwera, April 9, 2019.
The Church expressed gratitude to partners and stakeholders for the assistance like Kindermission Werk of Aachen in Germany who are rendering support towards those affected by floods and heavy rains that was experience the just passing rain season which have affected close to 15 districts across the country.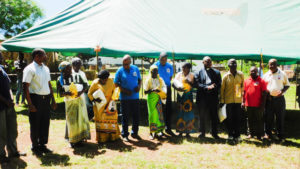 In a statement made at Namwera Parish grounds, on Tuesday, Fr. Frank Chingale, Vicar General of Diocese of Mangochi on April 9, 2019, said the support complements the salvific acts of God preached by the Church and experienced by all particularly during the Lenten Season.
"Diocese of Mangochi is so grateful for the monetary contribution of MK 16 million from Kindermission Werk of Aachen in Germany that has made purchase of relief food items to be distributed among 750 families in 5 most prone parishes in the diocese. This translates to 38,000 people affected by the incessant rains from St. Augustine, Ulongwe Namwera, Masuku and Kausi Parishes will be beneficiaries.
"Diocese of Mangochi whose jurisdiction runs down in Balaka, Machinga and Mangochi districts has a record of 13426 households affected with 6 deaths in Balaka. In Machinga 29301 households are affected with 5 deaths and Mangochi 2 deaths from 15655 affected households. Houses are destroyed completely, or partially, property lost, fields swept, livestocks washed away." Fr. Chingale said.

"Public facilities and institutions such as schools, churches, mosques and hospitals are flooded with people or turned into shelters for the affected households. Therefore, education, health and other services are compromised." He added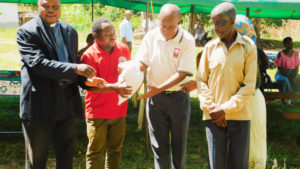 In an earlier address, made by Mr. P. Nthanda, Diocesan CADECOM Commission Secretary he commended Kindermission of Germany for the relief aid. He however mentioned the supports targets affected families regardless of religious boundaries.
"As long as you are God's creature as preached by the Catholic faith and you are affected by the past rain season within the diocese of Mangochi, you are entitled this consignment meant for relief." He said.

Nthenda however appealed for more support to reach out to masses that still need help."
" CADECOM is informed that many people need humanitarian support, but we can not manage to reach out to all because of financial limitations. Therefore, there is need for cooperate world and organizations to assist Church and government to extended the support." Nthenda added.
The selected affected households affected by strong floods and wind went away with 50 kilos of Maize, 2 kilos of cooking oil and 5 kilos of beans.
The exercises continues at Kausi, Kausi and Masuku on 10th April and on 11th April at St. Augustine Parish respectedly.