05.05.19
Story by Paul Mulinde & Fr Harry M. Phiri

On Sunday May 5th, 2019, a team of Friends of Mangochi Diocese from Lilongwe chapter (FMD) made a donation of assorted food items and a sum of MK211,000.00 to lepra patients at Utale II Leprosarium in Balaka.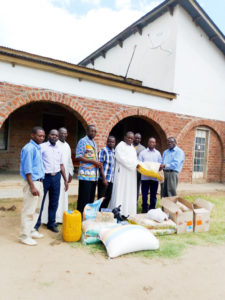 Speaking at the function, leader of delegation, Mr Jacob Mapemba thanked the parishpriest of Utale2 Parish, Frs. Lawrence Kayange for the efforts made to make sure that basic needs for the patients are made available.
"I am pretty sure that these friends living with leprosy have more needs perhaps compared to those of us living without this chronic disease. Now, the challenge is where and how to source their needs considering that leprosy was abolished years past, and donors aren't convinced donating for the course today. For this reason, FMD Lilongwe chapter thought of visiting the centre to appreciate the state of living standards and the same time make a little donation of foodstuffs and money. The money is intended to help in the renovation of their homes. Since the money is so little, we suggest that the money be invested as seed so little that gradually the homes are maintained from what may be realised," Mapemba said.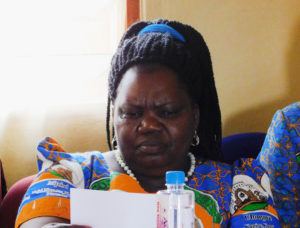 Mapemba also assured the gathering that the team will share the experience at the centre with all members in the chapter and people of goodwill with the intention of finding ways to rescuing the situation at the centre.
In his speech, the newly appointed pastor of Utale 2 Parish, Fr Saulos Chimbalanga thanked FMD Lilongwe chapter for the love gesture shown by visiting the patients at the Centre, and for making a meaningful donation of food items and money to the patients at the centre.
However, Fr. Saulos assured FMD chapter that the timely donation will be put to proper use. He also promised that the chapter will be served with periodical progress reports on the renovations.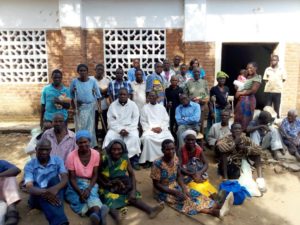 "This donation is seed money that will serve a greater purpose to this centre considering that the state of their accommodation facilities has gravely deteriorated," he added.

Matias Mafunga, leprosarium physician appealed to people of goodwill, organisations and the government to support the centre with clothes, food items, beddings, sanitary materials and medical facilities so as to easie the challenges at the centre.
Even though leprosy was abolished by Malawi Government, the disease was never eradicated, but eliminated. What this means is that, Malawi as a country, we had reached the WHO-recommended prevalence rate of leprosy less than 1 case per 10 000 persons."
Leprosy is a chronic disease caused by a slow multiplying bacillus, Mycobacterium leprae.
So far, 23 leprosy patients are reported, and quarantined at Utale 2 Leprosarium, a special boarding facility at Utale 2 Catholic Parish in Balaka district.